AmbER Appraisals provides our customers with the best appraisal reports for their ambulance or ambulance fleet.
If you need to determine either the fair market value, actual cash value, ACV or the replacement value of your ambulance(s), we'll document and research your vehicle(s) and provide you with the most professional appraisal report available in the industry.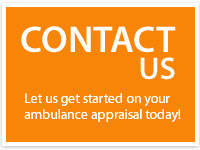 AmbER Appraisals sets the standard for a fully documented, professionally presented appraisal report. We work closely with you to fully document your ambulance or fleet. Each report is supported by market research, over 20 years industry experience, an extensive database of comparable ambulances sales data and historical valuation data. Our reports are sent electronically or by mail directly to our customers upon completion.